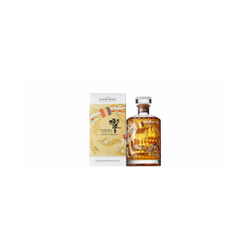 Hibiki Japanese Harmony Limited Edition Design
Artfully-designed, limited edition bottle represents both celebration and shared happiness with a kimono-inspired tabane-noshi pattern, released just in time for the 2018 Holiday Season
CHICAGO, IL (September 18, 2018) – The House of Suntory, the founding house of Japanese Whisky, has announced the release of a specially-designed bottle of Hibiki® Japanese Harmony™. Designed to represent both celebration and shared happiness in honor of the 30th anniversary of the Suntory Whisky Hibiki® brand, the limited edition bottle will be available widely in the United States as of October 1, 2018.
Inspired by a traditional kimono pattern, the bottle is embellished with the tabane-noshi, a traditional Japanese symbol of celebration that has often adorned precious gifts since ancient times. Several noshi are bundled together to make Hibiki Japanese Harmony's tabane-noshi design, which is extremely auspicious and symbolizes shared happiness with others. 
"Since the brand was first established, Hibiki has been a representation of Japanese art and design," said Takahiro Itoga, Senior Global Brand Director at Beam Suntory. "This specially-designed bottle honors that spirit, utilizing traditional Japanese symbols to create a design representing both celebration and shared happiness. The bottle in and of itself is a work of art, making it the perfect gift for the holiday season."
The Hibiki brand was introduced to the world in 1989 and since then has been embraced as the paragon of the Art of Japanese Whisky. It is not only one of Japan's most highly awarded blended whiskies, but also among the most prestigious whiskies in the world. Introduced in 2015, Hibiki Japanese Harmony is a harmonious blend blessed with the riches of Japanese nature and craftsmanship. Inspired by the riches and subtleties of Japan's 24 seasons of the traditional Japanese lunar calendar and mastered by Suntory's Art of Blending, Hibiki Japanese Harmony is a meticulous blend of the finest selection of malt and grain whiskies from the House of Suntory Whisky's Yamazaki, Hakushu and Chita distilleries. This delicate blend creates a oneness unfolding a full orchestra of flavors and aromas.