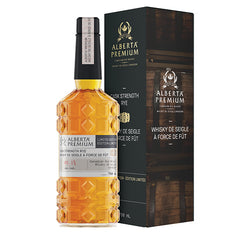 Alberta Premium Cask Strength Rye
You may have seen our products all across Canada, from Tofino, British Columbia to our home in Calgary, Alberta, and all the way to St. John's, Newfoundland, so we are proud that our products are born from the best in Canadian prairie grains, grown by farmers who have worked with us for decades. These grains are carefully blended with water fed from the snow capped peaks of the Rocky Mountains to produce our award-winning liquids and their signature profiles.
We use one of three distillation processes to create our products, but the heart of who we are is our unique ability to distill with one hundred percent rye grains, and to this day remain one of the only distilleries who can create the bold and spicy flavour of a 100% rye whisky. Add our popular vodkas, distilled from Alberta wheat and chill-filtered for maximum smoothness, and we have an award-winning collection.