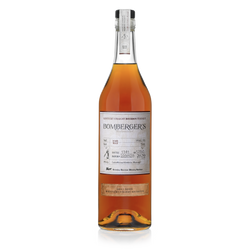 Bomberger's Declaration Bourbon Whiskey 2020
Bomberger's Declaration Distillery Bourbon honors the legacy of the former distillery known as Bomberger's in the 1800's and later as Michter's in the 20th Century. Please join us in toasting and celebrating American Whiskey History with this outstanding small batch 108 proof Kentucky Straight Bourbon Whiskey.
The 2020 Release of Bomberger's is a flavorful Kentucky Straight Bourbon with a distinctively smooth character that belies its 108 proof strength. For the aging of this release, our Master of Maturation Andrea Wilson chose barrels made from special wood that has been naturally air dried for over 3 years. While some Chinquapin (Quercus muehlenbergii) oak barrels were utilized in the maturation of the 2019 Release of Bomberger's, this year our production team opted to increase the proportion of the bourbon that spent time in Chinquapin oak. The special cooperage elevates the unique attributes of this wonderful Kentucky straight bourbon.