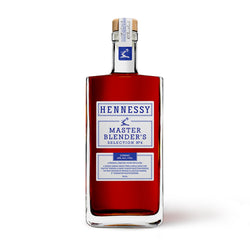 Hennessy Master Blender's No. 4
At Maison Hennessy, it is said that cognac is not made, it is crafted. It is a precise blend of heritage, passion and transmission that are the essence of our craft.
Nothing captures this spirit of craftsmanship more than the Master Blender's Selection. A unique series of limited edition releases, it is the result of our Master Blender's freedom to elaborate a blend which, unlike other Hennessy cognacs, will not be replicated.
The Master Blender's Selection N°4 is a personal blend and a distinctive expression of the Hennessy craft. Fresh with a supple elegance, this single-batch was hand-selected by Master Blender Renaud Fillioux de Gironde, fruit of his creativity.