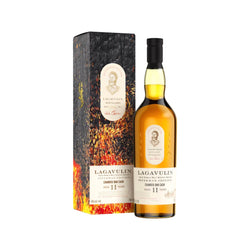 Lagavulin Offerman Edition 11 Year Charred Oak Cask
Lagavulin's Offerman Edition Charred Oak Cask is a single malt whisky that combines the smokey flavor of Lagavulin with the new taste of oak. It was created by aging Lagavulin in both American and European oak casks that previously held Scotch or wine.
The aged 11-year Lagavulin Scotch whisky, exclusive to Nick Offerman, is aged in new charred oak casks and is briny muscatel smoke with sweet, soft red fruits and hints of vanilla. The finish is light and warm.