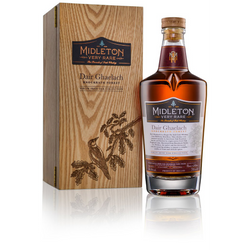 Midleton Dair Ghaelach Knockrath Forest Tree No. 5
Midleton Very Rare Dair Ghaelach is a range of Single Pot Still Irish whiskeys from the Midleton Distillery meaning, quite simply, Irish Oak. Midleton Very Rare Dair Ghaelach Knockrath Forest is the latest chapter of the Midleton Dair Ghaelach story. It takes us to the beautiful and ancient Vale of Clara, where the Knockrath estate lies hidden amidst the dramatic landscape of mountains and lakes.
This Single Pot Still Irish whiskey was matured initially in American Oak Bourbon barrels and finished in virgin native Irish Oak Hogshead casks grown on the Knockrath Estate.
The native Irish oak has interacted with the maturing whiskey to impart a complex medley of fruits and delicate spices. This special whiskey is the true and unique flavour of Ireland. Its provenance as individual as its fragrance, its journey from grain to glass as distinguished as its finish, this is a whiskey like no other.
In fact the Brabazon family have watched over the forests here since the sixteenth century, and continue to manage the trees from one season to to the next.
Sustainably managing oak woods in this way over the centuries has meant that Knockrath estate became one of the first sites where the iconic Great Spotted Woodpecker set up residence on its recent return to Ireland, following years in exile.