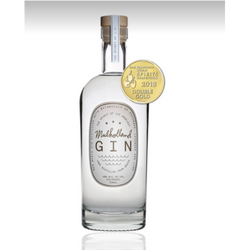 Unanimous Double Gold Medal Winner  2018 World Spirits Competition
We bring our raw spirits from Missouri to our bottling facility in Downey, California. It is here, with great care and attention to detail, we blend our proprietary recipe. First, the traditional Gin flavors of juniper, coriander, angelica and more. Then, we add the highest quality French lavender, Japanese cucumber and Persian lime aromatics. This blend of New World and Old World flavors gives Mulholland Gin its unique and approachable character.
Tasting Notes: Distilled six times from 100% non-GMO corn, our 96 proof, gluten-free Gin brims with a bright cucumber and juniper bouquet, but that's just the beginning. An intense burst of lime follows as the glass touches your lips and then a complex mix of our lavender florals appear — the juniper rounds out the palate before citrus and vanilla come roaring back. This is our New World Gin, made for the Gin lover in search of a new twist or for the newcomer looking to leap into a brave new world. Add Mulholland Gin to your Negroni, Aviation, Martinez, G&T or any of your favorite Gin cocktails and enjoy our Spirit of Los Angeles™!