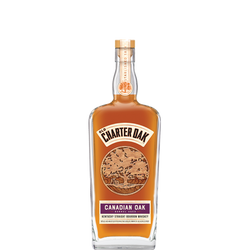 Old Charter Oak | Canadian Oak
For ten years, this bourbon aged and matured in Canadian Oak barrels at Buffalo Trace Distillery.
The long, cold winters and mild summers of Canada's northern climate make Canadian Oak uniquely suited to crafting exceptional bourbon. This distinctive environment leads to a tighter-grained wood that releases more of its signature oak aromatics while allowing the spirit to be aged longer in the barrel.
The finished spirit features a nose of caramel and berries, a palate of vanilla and maple syrup, and a long finish with hints of oak, chocolate and pepper. Raise a glass to the storied forests of our northern neighbors and enjoy this spirit's journey from acorn to oak to barrel to bourbon.