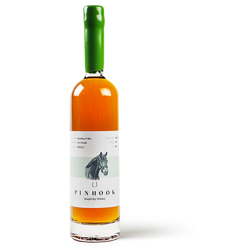 This straight rye whiskey has bright aromas of fresh

apples

,

licorice root

and

cinnamon stick

that give way to a deep and rich palate of

brown sugar

, candied

black licorice

,

vanilla bean

,

raisins

and dried

apricot

.
Every fall Pinhook releases a new bourbon and rye, each of which is connected to a promising young thoroughbred horse. The whiskey in each release is the best expression of our barrels at that moment in time, and we blend and proof each release to be as unique as the horse on the label. The result is an annual vintage of Pinhook Bourbon and Pinhook Rye that become instant collectibles. And while it is impossible to know if the horse on the bottle will go all the way to the Kentucky Derby, there is no gamble on the quality of what's inside.
The Bourbon N Rye release is the first edition of straight rye whiskey produced by Pinhook. The traditional mashbill has over 24 months of barrel age and was blended and proofed by Sean Josephs at Castle & Key Distillery in Millville, KY.