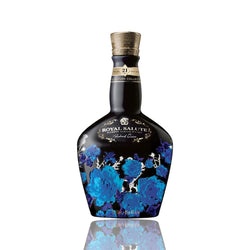 ROYAL SALUTE 21 YEAR OLD THE RICHARD QUINN BLACK EDITION
Royal Salute 21 Year Old The Richard Quinn Black Edition - The Royal Salute 21-Year-Old Richard Quinn Edition comprises an elegant floral blend, in homage to the bold and colourful designs of Richard Quinn. In a bold statement of style and elegance, the blend is housed in a re-imagined porcelain flagon, available in black and white. The flagon is embellished with a petals and thorns motif, personally designed by Richard Quinn. The whisky was fashioned by Royal Salute Master Blender Sandy Hyslop using Richard Quinn as its core inspiration – and offers elegant floral notes with a rich and indulgent finish.
TASTING NOTES
The Whisky:
Paying tribute to the vibrant designs of Richard Quinn, our Master Blender Sandy Hyslop has created a bespoke, limited edition whisky, using 31 fine malts – one for each year of the designer's age at the time of the blend's release, resulting in a floral, fragrant blend.
The Finish:
A meticulously intricate process that requires a talented Master Blender to reach the exact desired profile, harmonising a myriad of malts to create a delicately floral finish.
NOSE – Rich and fruity overlaid with notes of red apples and peaches, combined with creamy crème brulée, hazelnut chocolate, zest of orange and distinct floral notes.
PALATE – Rich and sweet with indulgent apricot and mango notes, followed by vanilla, chocolate and ginger spice.
FINISH – Rich and long, with enduring floral sweetness.